The 2019 Honda CR-V Is Much More Than A Mode Of Transportation
June 19 2019,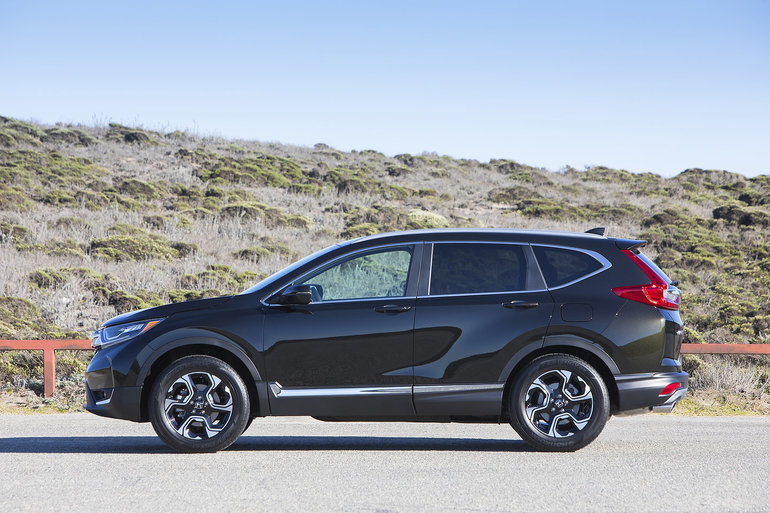 L'importante capacité de chargement et l'habitacle spacieux du Honda CR-V 2019 pourraient faire le bonheur des acheteurs avisés. Cependant, les acheteurs peuvent également s'attendre à une excellente consommation de carburant, un moteur puissant et des technologies de pointe. La LX est proposée en roues motrices avant ou en traction intégrale. Les versions EX, EX-L et Touring sont à traction intégrale.
Avec une garde au sol généreuse, le Honda CR-V AWD 2019 a un espace de 208 mm entre le châssis et la route. C'est avantageux quand il y a de la neige au sol. Les ingénieurs ont inclus un système d'obturation actif de calandre pour aider le VUS à en faire plus avec moins de carburant.
Pour l'hiver, le CR-V est équipé de rétroviseurs chauffants et d'essuie-glaces dégivrants. Les versions EX-L sont dotées d'un hayon électrique, tandis que les versions Touring sont équipées de galeries de toit, d'essuie-glaces avec détecteur de pluie et d'un toit ouvrant panoramique.
La conduite du Honda CR-V 2019
Le moteur à quatre cylindres développe 190 chevaux et consomme en moyenne 7,8 litres aux 100 kilomètres (ville / autoroute) combinés. La traction intégrale permet de s'assurer que le CR-V performe dans toutes les conditions météo. Pour aider les conducteurs à surveiller le véhicule sur les côtés, la caméra HondaWatch ou le système d'affichage d'angle mort peuvent être installés.
Une assistance à la stabilité du véhicule et le système d'avertissement de sortie de voie offrent une assistance ainsi que des avertissements au préalable.
Le réglage à faible vitesse permet au conducteur d'utiliser le régulateur de vitesse adaptatif dans les situations de faible vitesse. Le freinage automatique vient à la rescousse si une alerte de collision avant n'est pas pris en compte.
Beaucoup d'équipements de série sur le Honda CR-V 2019
Même le CR-V de base est très bien équipé. Un meilleur rembourrage améliore le confort des sièges pour les longs trajets. De plus, les sièges avant chauffants et le système de climatisation automatique bizone sont de série. Vous bénéficiez également d'un bouton de démarrage, d'un démarreur à distance, de deux ports USB et d'une clé de proximité.
Sur le tableau de bord, un écran de 7 pouces offre des fonctions HondaLink de nouvelle génération. Cela inclut Apple CarPlay, Android Auto, Bluetooth et une caméra de recul.
Si vous en voulez plus, la EX dispose d'un siège à 12 réglages électriques et de deux ports USB supplémentaires. Les versions EX-L sont munies d'un garnissage en cuir, de sièges arrière chauffants et d'un volant chauffant. Les versions Touring ont un éclairage d'ambiance, la radio HD et la navigation.
Le volume de passagers est de 2 999 litres. Le dégagement pour les jambes à l'arrière est de 1 025 mm. La deuxième rangée est facilement accessible car les portes s'ouvrent à 90 degrés.
Renseignez-vous sur les meilleures offres et faites un essai routier chez St-Constant Honda.